Sell My House Fast in Daytona Beach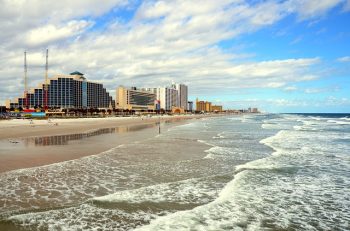 Selling your home can be confusing, frustrating, and downright terrifying sometimes. With Covid-19 taking the world, and the housing market, by surprise, it is even harder to sell your home than usual.. but it doesn't have to be. With trying to find reputable realtors, to the time it takes to close, and sometimes having to fix up the property before it will sell – all things that make the home selling process daunting and hard to navigate.
Well, worry no longer, because we buy houses at fair values, and can save you from foreclosure or probate court. You can sell your house quickly so you can get on with your life! Don't get bogged down in the market like everyone else, where you have to juggle tricky wording, confusing clauses, and shady realtors, or low-ball offers for your beloved home and property. Whether you are selling for the first time, or are an experienced home flipper, selling your home can be daunting, and things can waylay your plans at any turn.
With over 27% of homes vacant, over a 5% foreclosure rate, and Covid-19 leaving so many people unemployed or underemployed, selling your home has become just that much more difficult. So why make it harder on yourself than it already is; what can you do to make the process easier on yourself and others?
The longer the buying/selling process takes, the more likely you are to get into a pickle with the sometimes finicky housing market. Currently, there are hundreds of homes on the market, and the housing values are up! This is good news if you are trying to sell… sadly, that can change quickly – due to weather causing destruction, pandemics, tax hikes, and so many other things outside of your control, selling your home fast is the best option when selling your home at all.
How We Work
At FL Home Buyers, we buy homes in Daytona Beach, Florida, and we buy fast… within 7 days! How would you like to go from start to finish inside a week and move forward with your big plans? We don't like to let a good deal linger, and neither should you.
We make selling easy and fair for all parties involved. Since we are the buyer, we cut out the middleman, and you get more money in your pocket than with a traditional realtor/seller/buyer relationship. Our process is simple and easy with only 3 steps.
1.
Call Us or Submit Your Information Online
Once you contact us to schedule your free appointment, we will have one of our professionals visit your home and review the opportunities that are available for you and your family. You don't have to worry since you aren't contracted to anything at this point. It is simply an informational meeting that allows us to understand you and your expectations while letting you know more about us and our processes.
2.
Meet With Us At Your Home or Send Photos
After talking with you and evaluating the home using our expertise, we make a cash offer with no hidden charges or fees on closing. As cash home buyers, we offer cold hard cash, and we don't care about cleaning up or small repairs that might need to take place. Once we purchase a property, we take care of it all. We allow you to stay in the home until the date you have chosen. We can work with you you if you want a quick home sale but may not have another place to live yet. It's okay if you prefer to wait a while. The power of selling to us is truly in your hands! This is not true if you sell traditionally through a realtor, often the buyer is in charge in that relationship.
3.
YOU Set The Closing Date
After agreeing on a fair price, we send you the contract via email and give you a few days to review it, ask us any questions that you may have, and accept the offer. Once you do accept the terms and sign the contract, we allow you to set the closing date to sign the paperwork and close. Once you are done with this process, we then transfer the funds with a money wire, bank check, or certified funds to your account. Simple and quick, right? We take the legwork out of selling your home.
Who We Work With
Our clients are often in different life situations, and you are most definitely not alone. Each situation is uniquely designed for you because we've seen it all. With our longstanding career professionals, it makes our job easy, and there's no situation you can be in that we can't work with. Things like:
Falling behind on your mortgage payments and facing foreclosure
Relocating to new homes or towns for work
Hard to sell homes
Inherited properties that need to sell quickly
Older homes where work is much needed but financially unattainable
No matter what your situation is, we have you covered as cash home buyers. We take the stress out of home selling, so let us give you peace of mind and cash in your pocket. Here at FL Home Buyers, we buy homes all over Florida, and Daytona Beach is no different. With a great market, Daytona Beach is prime real estate, and you don't want to miss out on some of the best deals around.
How We Sell Your Home Fast in Daytona Beach, Florida
It is not only our duty but a privilege, to make this process as quick and easy as possible – as easy as 1, 2, 3! From making an appointment to getting an offer, and finally selling your home!
Why it's important to have an 'as-is' contract
We offer an 'as-is' contract when buying your home – why is that important? Because that means you won't have to do any work on the home or property before selling it to us. If you sell through a realtor, they often will use projects and enhancements as perks to sweeten the deal to the prospective buyer – "If you buy this house, we will do _______ work before you buy." But what they really mean is YOU will do the work at your expense, just to make a sale.
We think that is unacceptable. You shouldn't be penalized for trying to sell your home in a timely manner. Adding enhancements to the home at your expense, which takes time and hassle on your end, but doesn't raise the selling price, and often lessens the cash you get from your home… is too often the case when selling with most realtors. Selling should be a stress-free process, and we encourage sellers to read through any contracts and paperwork thoroughly before signing, we don't want you unhappy with our process!
Why we share proof of funds
Unfortunately, there are those out there who are just trying to rip you off and make your life more difficult while they make a quick buck. This is why we encourage sellers to request proof of funds from a cash buyer before signing or agreeing to anything! This way you know who is serious about buying your home. Also, asking for a deadline for proof of funds is important, as oftentimes buyers will overpromise and drag their feet on getting you proof. Don't waste your precious time and resources!
We Buy Homes in Daytona Beach, Risk-Free, Hassle-Free, and Stress-Free
As Cash Home Buyers, we want to make your selling process as easy as we can. When you work with us to sell your home, you won't have to worry about high closing costs like document mailing costs, tariffs, document stamp tax, title search fees, closing agent costs, or others. We also don't require the typical SIX PERCENT of the sale price realtor fee to us since WE are the buyers. This way you can sell your house fast and have more money in your pocket. Most importantly, we give you the power to decide when you want to close the sale and get paid.
Often, we can close deals in Daytona Beach within 7 days. However, we're not limited to just 7 days, we can extend the timeframe to fit whatever length you need. If you are serious about selling your home and want to avoid the typical selling drawbacks so you can sell your house fast… let us buy your home and skip the lines and 'red-tape' by getting a cash offer fast. We buy houses faster than anyone else in Daytona Beach, and it is easy to see why when you give us a call.
Sell My House Fast In Daytona Beach
Since 2012, the median selling price of homes in Daytona Beach has gone up nearly 150% and averages $176,000. It's easy to see why, since Daytona Beach has so much to offer! With white sands and beach fun nearly every day, you can also enjoy your time at an indoor go-kart rink with the family, or go on a segway tour, visit golf and rugby clubs, and even visit the chocolate factory!
Whether Daytona Beach is home or your home away from home, there are so many people who want to be here, and it's a great time to sell your home without the long lines of the traditional process getting in the way. With so many people buying and selling all the time, it can sometimes be hard to get your home noticed, especially if it may not be in top shape or have a beachfront view, so let us, the cash home buyers everyone trusts, help you get a quick house sale.