WE BUY HOUSES RIVIERA BEACH
Making the decision to sell your home is never easy. From the moment a homeowner first decides to sell, there are dozens of things to consider, especially in Florida. Statewide, the housing market remains strong, and the Riviera Beach area has particularly seen value increases with home prices jumping over 60% in the last year alone.

But even if the market favors the seller, it's not always easy to sell a home on your terms. There are special challenges for those wanting to sell their homes fast, from the first steps of finding a good realtor to navigating the confusing clauses of a housing contract and purchase agreement. You deserve to cut out the clutter and partner instead with the home-buying company you deserve: one that puts you and your needs first so that you can get the best value for your property.

If you work with Florida Home Buyers, you're choosing the freedom to sell your home on your schedule, at your price, and on your terms.

When you work with Florida Home Buyers, you get:

1) NO COMMISSION.
Working with typical real estate agents, there's a final surprise once you close: a commission. When you work with Florida Home Buyers, we're your buyer—no agent needed, no commissions in sight.

2) NO CLOSING COSTS.
We want the power to sell your home to be—and stay—in your hands. Our customers enjoy a stress-free home-selling experience without any closing costs—yes, even if your home is in poor condition, in need of major renovations, or has code violations.

3) QUICK SALES TIME.
No need to wait for a buyer now: with Florida Home Buyers, you can relax knowing your house will be sold fast—usually around seven days.
SELL YOUR HOME FAST IN RIVIERA BEACH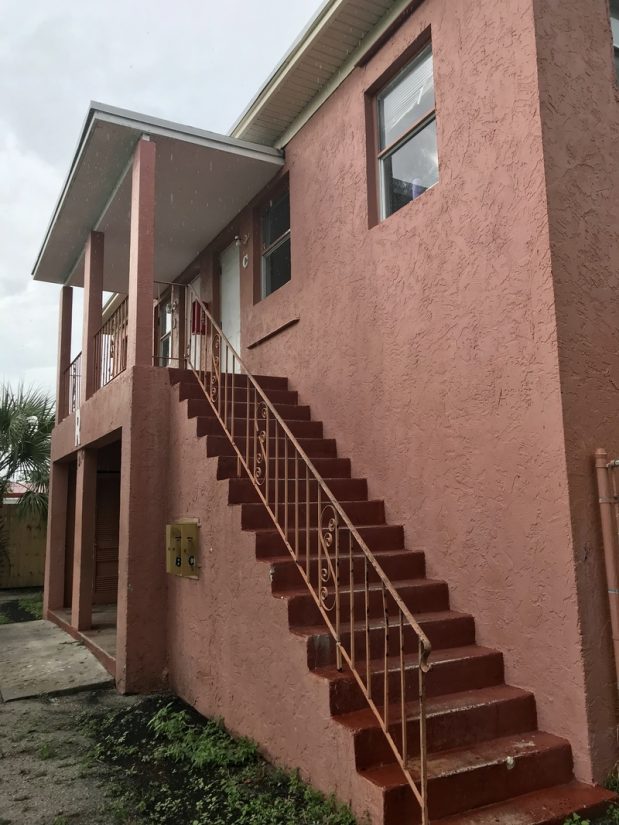 Florida Home Buyers aims to make selling your home effortlessly easy and ultra fast. Our home-buying process takes only three steps that move you from where you are to where you want to be.

Make An Appointment.
Sign up for an initial appointment with Florida Home Buyers—totally free of both cost and obligation. Our professional home buyers will visit your house and evaluate realistic, fair possibilities for your property. This way, we can give you an honest report upfront and answer any questions you may have about working with Florida Home Buyers. Your trust is critical, so ask any and every question you can think of.

Get Your Offer.
When you decide to work with us, we'll make you an offer in cold, hard cash. After this point, everything goes smoothly: since there won't be closing costs and we'll take care of any repairs later, all you have to do is choose your preferred date of closing—whether that's now or later.

Get Your Home Sold!
Congratulations! The hard work is out of your hands and with Florida Home Buyers instead. Lean back, sign the agreement, and pour yourself a drink knowing your home is going to be treated well and sold quickly.

WHY YOU'RE SELLING YOUR HOME
There are dozens of reasons why you might choose to sell a home, and at Florida Home Buyers, we've seen them all. From buying houses with tenants to major code violations and those seeking to avoid foreclosure and more, our business is helping customers get their homes bought and sold, regardless of circumstance.

In other words, whether your home is in pristine condition or desperately needs major repairs, chances are we've faced your situation before and know how to sell your house fast.

Overcome the stress and let Florida Home Buyers offer you an easy way to get through the process of selling a home. It's our pleasure to help you sell your Riviera Beach home fast and fuss-free.

THE IMPORTANCE OF AN AS-IS CONTRACT
"Why can't I sell the house myself?" you may be wondering. "It doesn't seem that difficult to list a house."

Many houses listed as for-sale by owner receive offers within days, it's true! But the reality is that for many of those homes, a long list of requested repairs typically follows, especially if your house is in poor condition. Here at FL Home Buyers, we use a standard "as is" purchase agreement designed by Florida Realtors and the Florida Bar. This agreement indemnifies you from repair obligations, making it easy for home sellers to sell in peace and leave the messy work to the pros.

In other words, your sale comes first. We'll deal with the repairs.

WHY CHOOSE FL HOME BUYERS
We want your home-selling experience to be fast and fair. Our process gives customers a contract that works not just to sell, but to sell specifically for you. Here's what sets us apart from the competition and promises home sellers across Florida satisfaction.

-EASY PROOF OF FUNDS. Unfortunately, many home buying companies aren't working for you—they're working for themselves. As a result, they can't provide proof of funds when requested. Florida Home Buyers is different: we easily provide proof of funds so you know your check is getting cut ASAP—turning your home into real money now.

-NO CLOSING COSTS. When you're hit by unexpected closing costs, it can be a significant financial burden—from document stamp taxes and closing agent fees to title fees and more. With us, there aren't any closing costs—just clear, transparent cash.

-NO COMMISSION. Traditional real estate agents take a commission when all is said and done—sometimes an eye-watering 6% of the sale price. Since we're your homebuyers, you don't need an agent, and that means the price you see is the price you get.

-CHOOSE YOUR CLOSING DATE. Your timeline is central. With Florida Home Buyers, you get to choose your own closing date—whether that's now or in a few weeks. We'll work with your schedule, not the other way around.

We also buy houses in the neighboring towns such as West Palm Beach, Boca Raton, Delray Beach, and Boynton Beach. In a smaller area? No worries, we have experience buying homes in Lake Worth, Wellington, Jupiter, Lantana, and even Palm Beach Gardens. So give us a call to get a cash offer on your home today!
Ready to take the next step on your path towards selling your home? Contact our professional team of home buyers at Florida Home Buyers today and set up your free appointment. We'd love to hear from you and help you move forward on your journey.